Ohio medical marijuana cultivator territories announced
The Department of Commerce recently identified how it will designate territories for Ohio medical marijuana cultivators. By way of background, the current draft of Section 3796:2-1-01(A) provides for up to three Level I cultivators and three Level II cultivators in each of 4 designated territories. This is a change from the original drafts where the Department was to split up Ohio into 12 designated territories.
The Department announced recently precisely how it intends to divide the state for purposes of cultivator licenses, and the result ends up with Northeast Ohio's quadrant including what will likely be 4 of the more competitive counties in the state for medical marijuana cultivation: Cuyahoga, Summit, Mahoning, and Lorain. Here is an image from the Department's announcement: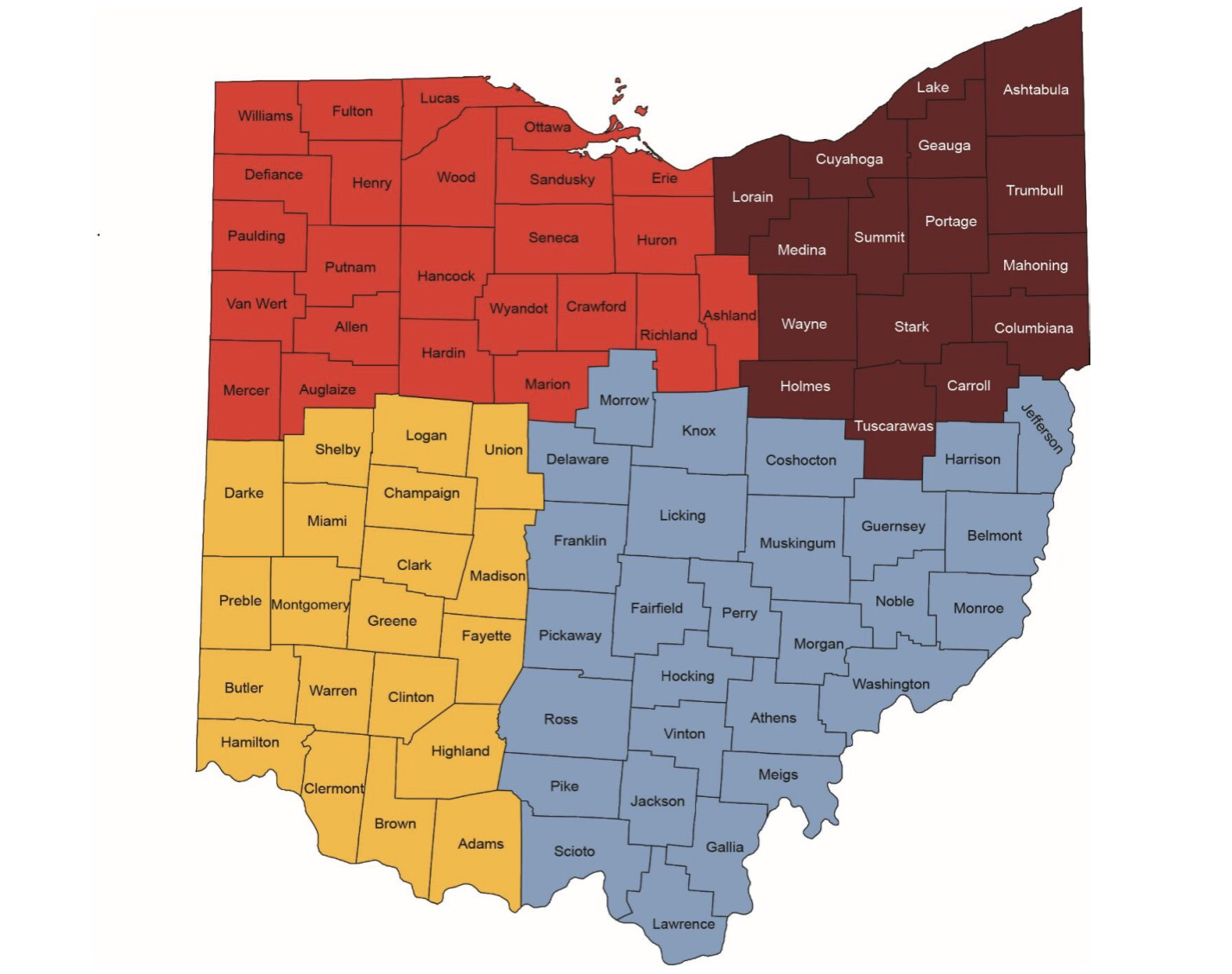 This design runs the real risk of making some quadrants so competitive that well-qualified applicants are shut out based solely on the number of applicants in that territory. In other words, the 5th best Level I applicant in Northeast Ohio may very well be a more qualified applicant than the top applicant in Northwest Ohio, but there will only be 3 Level I licenses awarded in Northeast Ohio. Furthermore, such large territories may encourage consolidation of applicants in closer proximity, as opposed to having cultivators more widely disbursed as would be the case if Ohio had a larger number of territories.
It will be interesting to see if this map changes at all as we continue with the rule-making process, and do not be surprised to see some border counties transition into neighboring territories (for instance, Lorain could very well end up as part of the Northwest quadrant).
Changes to Ohio medical marijuana dispensary rules
On January 27, the Ohio Medical Marijuana Advisory Board met and received an update from the Board of Pharmacy on the comments received relative to the proposed dispensary rules. Notably, the Board referenced three major changes to its initial draft rules:
The number of licensed dispensaries will be increased from 40 to 60 statewide;

The $80,000 biennial fee to renew a dispensary license will be reduced (although we do not know what the reduced fee will be); and

The Board will remove the requirement of having a "clinical director" either on-site or available by phone during hours of operation (I discussed the clinical director previously).
New dispensary rules have not yet been issued, but rest assured I will post an update when they are.
Proposed Ohio medical marijuana processor rules
The Department of Commerce also proposed its initial set of draft rules for Ohio medical marijuana processors. The first round of public comments are being accepted through close of business on February 10, 2017. Here are the highlights:
The Department will license 40 medical marijuana processors, with 10 processors in a given territory (my educated guess is that the Department will utilize the same territories for processors as it does for cultivators);

Once an applicant is awarded a provisional license, the applicant will have six months to get its facility up and running before it can receive its certificate of operation;

Processors must either maintain a surety bond in the amount of $750,000 or an escrow account in that amount, and must also demonstrate that it has $250,000 in liquid assets; and

Processor application fees will be $10,000 to apply; $90,000 to obtain a certificate of operation; and $100,000 annually to renew a processor license.
Check out the latest draft processor rules by clicking here.
We know from the draft cultivator rules that Ohio will award "plant-only processor" licenses to cultivators who wish to sell plant material directly to dispensaries, although those entities will have to meet more stringent packaging and labeling requirements than other cultivators. These plant-only processor licenses will cost $5,000 for Level I cultivators and $500 for Level II cultivators.
Stay tuned as Ohio continues its rule-making process. And, in the event you are interested in getting involved in Ohio's medical marijuana industry (whether as a cultivator, processor,  or dispensary operator), don't hesitate to contact us at (216) 566-8200 for a free consultation to discuss your plans.